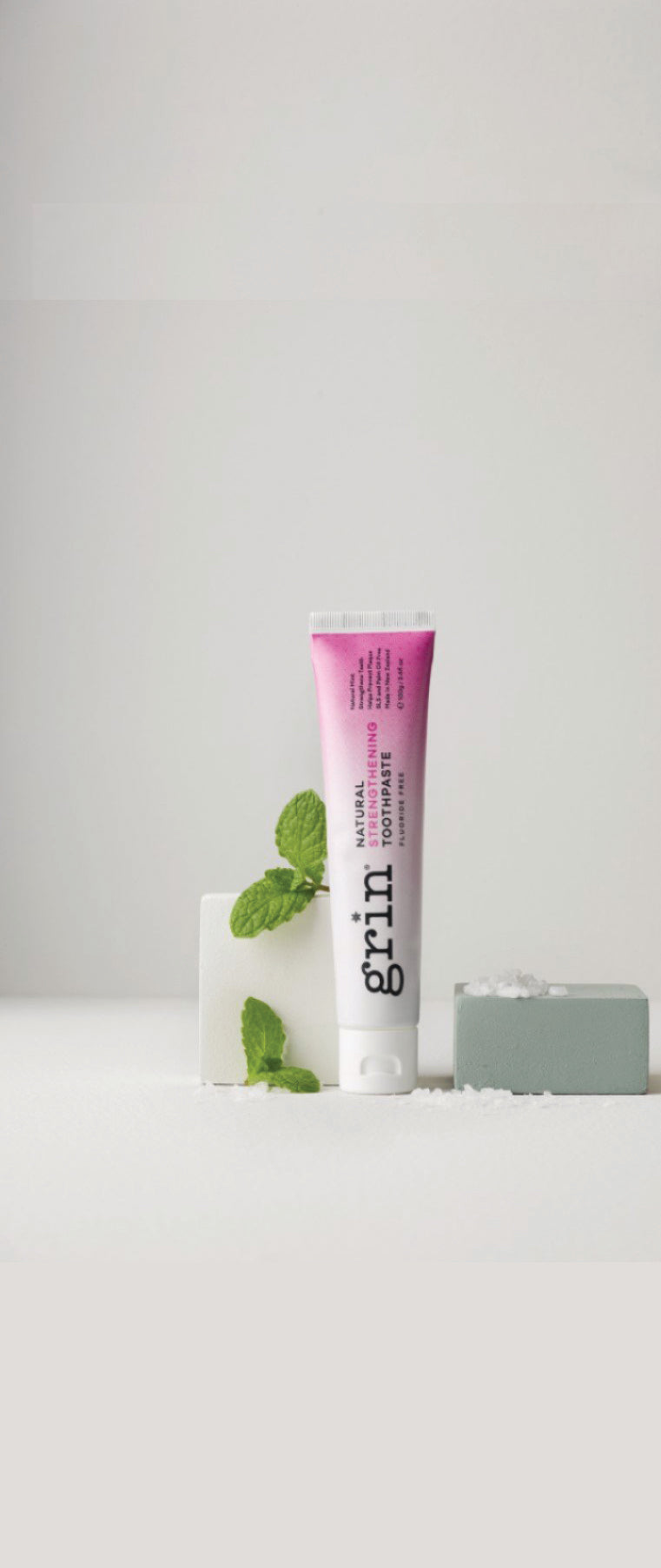 100% Natural Strengthening Toothpaste
Grin's natural Strengthening toothpaste delivers not only a thorough, fresh, clean, but most importantly, works to combat bacteria, strengthen and remineralise your teeth with key ingredients; Hydroxyapatite, Organic sea salt and Magnolia bark extract.
Repair and strengthen enamel with natural hydroxyapatite, sourced from the Dolomites in Italy
Soothe sensitive teeth and tackle sensitivity at the root, instead of just numbing the pain
Fight tooth decay with Magnolia Bark Extract and Xylitol
Combination of 3 unique active ingredients that work together to inhibit bacteria
Balance the pH of your mouth to maintain a healthy oral environment with organic sea
Vegan friendly
Key Active Ingredients
Magnolia Bark Extract
Magnolia bark extract works to control oral bacteria growth and prevent the build up of tartar. This active ingredient comes from the magnolia tree which is recognised for containing several natural, compounds that function as anti-inflammatory, anti-bacterial, and anti-allergic agents.
Natural Hydroxyapatite
Don't let that scientific name fool you - hydroxyapatite is a naturally occurring mineral form of calcium apatite and is actually the main mineral that our dental enamel is made of. Hydroxyapatite is the best alternative to fluoride and has been proven to provide the necessary minerals to remineralise subsurface areas of the tooth, restoring the enamel to its near natural state, without changing the composition of the enamel.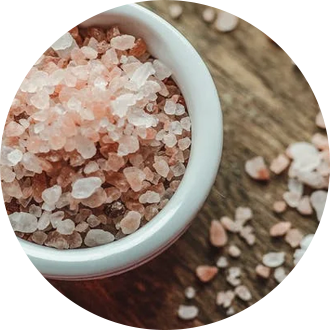 Organic Sea Salt
Ever wondered why dentists suggest rinsing with saltwater after a dental procedure? The alkaline nature of sea salt increases the pH balance of your mouth, creating an environment that bacteria really, really hate. The sea salt we've put in Grin is certified organic, so it retains more of the good stuff such as calcium, magnesium, silicon, phosphorus and iron.

Calcium Carbonate, Glycerine (Palm-free from Rapeseed), Aqua (Water), Xylitol, Lauryl Glucoside (Palm-free from Coconut), Hydroxyapatite, Chondrus Crispus (Carrageenan) Gum, Foeniculum Vulgare Dulce (Fennel) Extract, Menthol, Spearmint Flavour, Xanthan Gum, Clove Flavour, Magnolia officinalis (Magnolia) Bark Extract, Peppermint Oil, Organic Sea Salt
Sodium Lauryl Sulphate (SLS, a chemical foaming agent used by many big brands)
Artificial Preservatives (Edta, Formaldehyde, Parabens Etc.)
Artificial Colors, Flavors Or Fragrances
Propylene Glycol
Artificial Sweeteners Or Saccharin
What makes Grin different from other natural toothpastes on the market?
Our toothpaste has a couple points of difference; it's 100% New Zealand made and we source New Zealand ingredients where possible, all Grin toothpastes contain three key active ingredients to care for your whole mouth and Grin is the only natural toothpaste that you can find in dental clinics nationwide.
What will I notice when I change from mainstream toothpaste to Grin?
Most mainstream toothpastes rely on artificial sweeteners and flavors to create the overly sweet and minty taste that people have become accustomed to. Grin uses the natural sweetness of peppermint and fennel to provide a gentle flavor that doesn't compromise on freshness. When you try it for the first time you might find it a bit different, however if you continue using Grin for a week you, your taste buds will adjust and fall in love with Grin!
I'm pregnant, is it harmful for me to ingest Grin toothpaste while brushing my teeth?
Not at all! Grin toothpaste is completely safe for pregnant women to use as it is made from of natural and safe ingredients.
Is Grin suitable for people who suffer from a dry mouth?
Together with its key ingredients, Grin natural toothpaste also contains the amino acid betaine. Studies suggest that the use of a detergent-free, betaine-containing toothpaste (such as Grin) may provide relief from the symptoms of dry mouth.
Why does Grin not contain any SLS?
SLS (Sodium Lauryl Sulfate) is a common component of standard toothpastes. This chemical compound does not actually clean teeth—its sole purpose is to produce foam, which gives the impression of cleaning. SLS is commonly be found in other foaming products, such as car wash detergents, toilet cleaning detergents, and shower gels. For some people exposure to SLS causes canker sores and mouth ulcers.
Is Grin toothpaste gluten free?
All Grin toothpastes are gluten free (as tested by an independent laboratory). Our products do contain 'Potassium Olivoyl Hydrolyzed Wheat Protein' however laboratory testing shows that gluten is undetected in all Grin toothpastes. Please email info@grinnatural.co.nz if you wish to obtain a copy of the testing certificate.
Does Grin toothpaste contain microbeads?
Grin toothpastes do not contain microbeads.
Do Grin toothpastes contain any GMO ingredients?
There are no GMO ingredients in Grin toothpastes.
Does Grin test on animals?
Our products are not tested on animals. Our kids toothpastes are vegan friendly, whilst our Cool Mint and Whitening toothpastes are suitable for vegetarians as they contain Propolis. Propolis is a sticky substance that bees make from saliva, beeswax and tree sap to block up unwanted spaces in the hive. Our Propolis is gathered in a sustainable way without harm to bees.
Why does Grin have a colored stripe on the bottom of the toothpaste tube?
Toothpastes have four different stripe colors. The colored squares on the bottom of toothpaste tubes have nothing to do with the product's content. They are instead an artifact of manufacturing process, and are known as color marks, printed marks or eye marks. During the manufacture and packaging process these stripes allow high-speed machinery to recognize where the packaging needs to be folded or cut.
Your package will be sent using Track & Trace. A physical delivery address is required for all orders. Please allow up to 2 additional days for rural zip codes.
Estimated Delivery Time

USA

Orders over $40 USD

USA

Orders $0-$39.99 USD

Canada & Hawaii

Orders over $40 USD

Canada & Hawaii

Orders $0-$39.99 USD

Standard Delivery

3-8 working days

FREE

$8

$10.00

$12.00

Express Delivery

2 working days

$8

$13

not available

not available
This site currently ships to:
USA, Hawaii & Canada
Shipping and discount codes calculated at checkout. International deliveries may be subject to local customs charges. Please check with your local customs authority.
Please be aware delivery is subject to stock availability and payment authorisation.
You can be assured that we make every effort to ensure the stock presented to you on our site is readily available for you and should there be any items in your order which are not available, we will contact you via your provided email shortly after.
If you have any concerns related to your order, please get in touch using our live chat or via email (info@grinnatural.com) with your order number.
Processing Times
Once your order is placed, your order will be processed within 1-2 business days.
You will receive your Order Confirmation Email as soon as we've received your order.
Payments Accepted
American Express, VISA, MasterCard, Apple Pay, Google Pay, PayPal, Shop Pay.
Express Shipping
Our delivery partner, DHL ships to all 50 states of the United States
Grin is not responsible for delays in shipping or delivery, due to natural or uncontrollable events. Additionally, Grin is not responsible for delays related to the courier itself (such as customs clearance). Unfortunately, we do not have control over these delays.